At the United Nations Sustainable Development Summit on 25 September 2015, more than 150 world leaders adopted the new 2030 Agenda for Sustainable Development, including the Sustainable Development Goals (SDGs).
The SDGs were developed by the United Nations Foundation. The 17 goals and the 169 targets contained within those goals, are a fabulous roadmap to the future. These goals are being adopted by both the public and private sectors. The goals allow business and industry to have a common platform and measurement criteria of their sustainability, as well as their contribution to the planet and humanity.
There are a number of PTPI chapters that already use the SDGs as a way of connecting with important Stakeholders.
For, Demba Kandeh, President, People to People International – The Gambia, West Africa, this is her focus:

• We are working on Global Volunteerism (Community Service) Cultural Performance/Activities (SDG Goal 11)
• Media Conversation (Peace Building, Leadership, Volunteerism and Cultural diversity.) (SDG Goal 16)
• Community Peer Educators' Mentor-ship on peace Building, leadership & Cultural & diversity exchange programs. (SDG Goal 4)
• Panel Discussion on Peace building & Cultural diversity with concerned Stakeholders and Major Community groups (SDG Goal 10)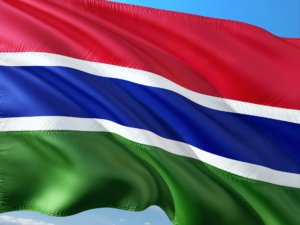 The 17 sustainable development goals (SDGs) to transform our world:
GOAL 1: No Poverty
GOAL 2: Zero Hunger
GOAL 3: Good Health and Well-being
GOAL 4: Quality Education
GOAL 5: Gender Equality
GOAL 6: Clean Water and Sanitation
GOAL 7: Affordable and Clean Energy
GOAL 8: Decent Work and Economic Growth
GOAL 9: Industry, Innovation and Infrastructure
GOAL 10: Reduced Inequality
GOAL 11: Sustainable Cities and Communities
GOAL 12: Responsible Consumption and Production
GOAL 13: Climate Action
GOAL 14: Life Below Water
GOAL 15: Life on Land
GOAL 16: Peace and Justice Strong Institutions
GOAL 17: Partnerships to achieve the Goal
To the Goals
The Gambia:
The Gambia is a small West African country, bounded by Senegal, with a narrow Atlantic coastline. It's known for its diverse ecosystems around the central Gambia River. Abundant wildlife in its Kiang West National Park and Bao Bolong Wetland Reserve includes monkeys, leopards, hippos, hyenas and rare birds. The capital, Banjul, and nearby Serrekunda offer access to beaches.