History
The concept of People to People represented part of U.S. President Dwight D. Eisenhower's lifelong crusade for peace. He believed that everyday citizens wanted a more peaceful world and could achieve it more effectively without government interference. (Video)
After a July 1955 meeting with Soviet Premier Nikita Khruschev, President Eisenhower shared in his report to the nation: "The subject that took most of my attention was the possibility of increased visits overseas by the citizens of one country into the territory of the other nation."
The result was the launching of the "People to People" initiative on September 11, 1956, under the U.S. Information Agency. This program of "personal diplomacy" emphasized nongovernmental contacts between people.
With his term of office nearing an end, he sought a way for the organization to be funded in the private sector. President Eisenhower engaged his good friend, J.C. Hall, the founder of Hallmark Cards, Inc., to help continue this valuable work. Hall agreed, and People to People International (PTPI) was incorporated as a not-for-profit 501(c)(3) organization in the State of Missouri on October 31, 1961, with the offices moving from Washington, D.C., to  Kansas City.
Eisenhower's vision to enhance international understanding and friendship translates into action by thousands of members around the world. As we celebrate our rich history, we pay tribute to the everyday citizens whose efforts enrich their communities and nations, and who breathe life into our mission each day.
"Granddad felt very strongly that everyday citizens of the world wanted peace and could attain it much more effectively without government interference or representation. Having seen the slow impact government had, he realized that world peace had to come from the soul of human nature and that governments could not dictate the human heart, only reflect it. Our organization is a form of proof that he was right. 60 years later, we are still working very hard to accomplish what he saw as the solution." ~ Mary Jean Eisenhower, PTPI's Former CEO and President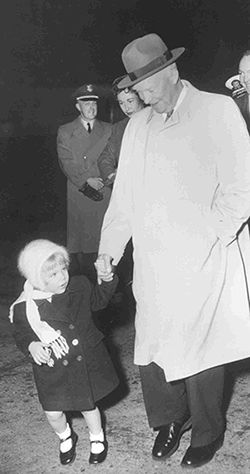 Note:
Our World HQ entered into liquidation in 2022. Currently, the Global Chapter Network (
GCN)
is being supported by our EUHQ team in Brussels, Belgium.