History
People to People is a concept that stems from President Dwight D. Eisenhower's lifelong mission for peace. He firmly believed that ordinary citizens could contribute to creating a more peaceful world without government intervention. After a meeting with Soviet Premier Nikita Khruschev in 1955, President Eisenhower realized that increasing visits between citizens of different countries could help achieve this goal.
This led to the birth of the "People to People" initiative in 1956, which emphasized personal diplomacy and non-governmental contact between people. As President Eisenhower's term was ending, he sought private funding for the organization and enlisted the help of his friend J.C. Hall, the founder of Hallmark Cards, Inc. This led to the incorporation of People to People International (PTPI) as a not-for-profit 501(c)(3) organization in Missouri in 1961.
Eventually, PTPI reached at least 160 countries, connecting diverse individuals worldwide to explore global issues, serve their communities, and become effective leaders in creating a more harmonious world. In 2023, PTPI took another significant step forward with the opening of the Global Chapter Coordination Centre in Belgium, serving as a central hub for their Chapter Network and their activities.
PTPI members embody the core values and ideals that the organization strives to promote, representing the best of what we envision for the world when it is at its best. As we celebrate our rich history, we pay tribute to the everyday citizens whose efforts enrich their communities and nations, and who breathe life into our mission each day.
"Granddad felt very strongly that everyday citizens of the world wanted peace and could attain it much more effectively without government interference or representation. Having seen the slow impact government had, he realized that world peace had to come from the soul of human nature and that governments could not dictate the human heart, only reflect it. Our organization is a form of proof that he was right. 60 years later, we are still working very hard to accomplish what he saw as the solution." ~ Mary Jean Eisenhower, PTPI's Former CEO and President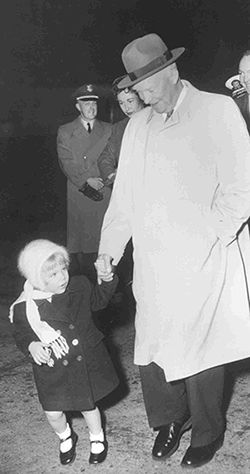 Note:
Our World HQ closed in 2022. Currently, the Chapter Network (
CN)
is being supported by our EUHQ team in Brussels, Belgium.