BY: Franklin Okello, April 2023 – Mombasa
We had the opportunity and pleasure to interact and engage with very happy and enthusiastic students. The school of choice was Majaoni Secondary school with over 1300 students.
During this visit I talked about myself and my academic journey and challenges. I also talked about my career and careers in general. I shared on the core subjects, English, Mathematics and Kiswahili. I also talked about career specific cluster subjects.
More so, I allowed the students to do self-assessments and correlate it with their career choices. They were to identify their strengths and do even better and their weaknesses to upscale their efforts. University entry point of C+ was also emphasized. The students were challenged on methods and strategies of studying and overall motivated to work hard and smart to pass their exams.
We also talked about the risk of early marriage amongst the young girls.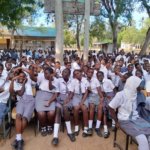 Majaoni Secondary School is a co-educational public secondary school located in Majaoni, a neighborhood in Mombasa, Kenya. The school provides education to students in the Kenyan secondary education system, which includes four years of high school education. Majaoni Secondary School serves students from diverse backgrounds, including those from Majaoni and its surrounding areas.
Academically, Majaoni Secondary School follows the Kenyan national curriculum, which includes subjects such as English, Kiswahili, Mathematics, Sciences (Physics, Chemistry, and Biology), Social Studies (History, Geography, and Civics), and optional subjects like Business Studies, Agriculture, and Computer Studies. The school prepares students for the Kenya Certificate of Secondary Education (KCSE) examinations, which are administered by the Kenya National Examinations Council (KNEC) at the end of the four-year secondary education cycle.
The school also places importance on co-curricular activities, including sports, clubs, and societies, which provide students with opportunities to develop their talents, skills, and interests outside of the classroom. Majaoni Secondary School has a variety of sports teams, such as football, basketball, volleyball, and athletics, and participates in inter-school competitions at the regional and national levels.
Majaoni Secondary School, like many other public schools in Kenya, faces challenges such as limited resources, overcrowded classrooms, and a high student-to-teacher ratio. However, the school strives to provide quality education to its students and prepares them for further education or employment opportunities after completing their secondary education.
The school is led by a principal, supported by a team of teachers and administrative staff who work towards the school's mission of providing a conducive learning environment and producing well-rounded individuals who can contribute positively to society.