Visiting the Gambia – February
Thea Lauridsen: I am the project manager for an initiative that is educating women over 18 years old, who have never gone to school. Under the auspices, we had arranged a trip to the Gambia and among other things, visited two of our projects in Choya and Kubuneh.
It was a great experience for our members to be invited to dinner by the chief and eat from the same dish. We ate local chickens and the chicken leg bones were thrown to the cats around us. There were goats stood in the doorway and they roared.
We experience walking around the various compounds. Greeting people and being told about their everyday life. In another village, we financed five boats – hollowed-out tree trunks – which the women row between the mangroves collecting oysters for sale at the market. The women split the oysters and boil them, before the sale. The shells are crushed and used for house construction. The group of Danes said afterwards that the trip was one of the best experiences they had ever had.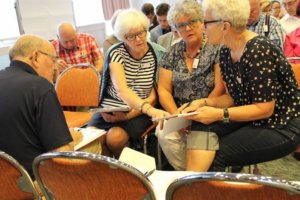 Visiting South Africa – February/March
Anna Marie Bohsen: We made it! – arrive back in Denmark on 9 March, two days before our prime minister closed Denmark down and shut all borders. It was our fourth trip to the wonderful Western Cape in South Africa. We were a mixed group, with members from Denmark and New Zealand.
We spent 16 days outside Cape Town in the west to Knysna and Featherbed in the east with a local – knowledgeable and well-read – guide from arrival to departure. We visited both white and families of colour. Went to a game lodge and saw wild animals, beautiful nature, swam in the Indian Ocean and spent a very interesting weekend with a local black (PTPI) family, Hartnicks in Bot River. We learned a lot about volunteer work in smaller communities and realized how many local people with reserves of energy can do for fellow locals who are in a bad shape socially and financially and how important it is to the community.
A wonderful experience.
Plans for Japan and Ireland
Gunild Bogdahn: My plans for Denmark were a five day trip to Dublin, Ireland in April. Stay in Dublin, day trips to the west coast and down south, but due to pandemic, all travel was cancelled.
Also, our 21 day trip to Japan in May, was cancelled. We were going to visit Okinawa, Hiroshima, Miyajima, Kyoto, Nara, homestay in Ito, National Park at Mt. Fuji and say goodbye from Tokyo. We are not yet sure when we can travel again – we are keeping an eye on the local and international news.
"The Danish Ladies" had an informal day trip to the Danish West coast in October. We talked about possibilities to start travelling again when the pandemic is over. Where would we like to take groups? And, will it be possible to invite members to an "All-Denmark-Meeting" (annual meeting) in April 2021?