PTPI Youth Chapter, Varna, Bulgaria
The Dolphins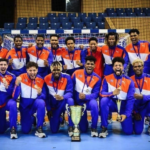 Sports championships in Varna continue and we from the Dolphins, of course, help by getting involved in their organization!
This year we had the honor to volunteer at the 2023 European Handball Championship! 🏅
We had a great time on our teams, forming friendships and creating unique memories! 🐬
#sports #ptpi
Varna is a city located in northeastern Bulgaria, on the Black Sea coast. It is the third-largest city in Bulgaria, after Sofia and Plovdiv, with a population of around 350,000 people.
Varna is a major cultural and economic center in Bulgaria, known for its beautiful beaches, historic landmarks, and vibrant nightlife. Some of the most popular attractions in Varna include the Sea Garden, the Roman Baths, the Cathedral of the Assumption of the Virgin, and the Varna Archaeological Museum, which houses an impressive collection of artifacts from the Roman, Greek, and Bulgarian eras.
The city also hosts several annual cultural events, including the Varna Summer International Music Festival, the Love is Folly International Film Festival, and the Varna International Ballet Competition.
Varna is also a transportation hub for the region, with an international airport, a major seaport, and several highways and railways connecting it to other cities in Bulgaria and beyond.
Overall, Varna is a beautiful and fascinating city that offers visitors a unique mix of history, culture, and natural beauty, making it a popular destination for tourists from around the world.