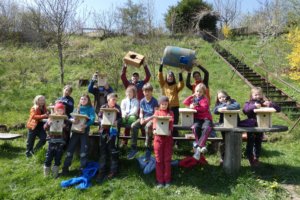 Sternberk, Czech Republic
PTPI Šternberk
"There is no house like a house" or how easy it is (or not 🙂 to make a birdhouse. We thank Bláž for a beautiful day with preschoolers!!! 🙂
Sternberk (also spelled Šternberk) is a small town located in the Olomouc Region of the Czech Republic. It is situated about 20 kilometers northwest of the regional capital, Olomouc, and has a population of around 14,000 people.
The town is known for its picturesque historic center, which features a number of well-preserved buildings from the Baroque and Gothic periods. One of the most notable landmarks in Sternberk is the Renaissance-style Sternberk Castle, which dates back to the 16th century. The castle was originally built as a fortress, but was later converted into a chateau. Today, it is open to the public as a museum and cultural center.