PTPI Youth Chapter, Varna, Bulgaria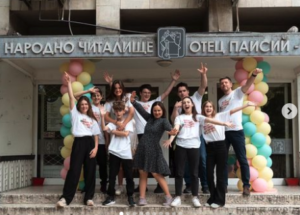 PTPI_The_Dolphins
We were part of a wonderful initiative to popularize Bulgarian theater!
Performances aimed at introducing children to the magic of acting, namely "A LITTLE FESTIVAL OF DOLLS" ❤️🎭 The festival was held on May 20-22 at the Father Paisiy National Community Center and included 6 real works of puppet mastery by various representatives of professional theater troupes.
We made many friendships, charged with great energy and remembered the beauty of our native theater! 🥰
Note from Chapter Network office:
Dear Youth Chapter, the Dolphins,
Hope this message finds you all in high spirits and full of enthusiasm. Wanted to take a moment to express our utmost support and awe for the incredible work you and the other PTPI Youth chapters have been doing. Your dedication, passion, and commitment to making a positive impact in your communities are truly inspiring.
The efforts you put into various projects and initiatives are a testament to your determination to create change and foster understanding. Your unwavering commitment to promoting cultural exchange, global friendship, and social awareness is commendable. It is through your actions that the PTPI Youth chapters have become a beacon of hope and unity.