People To People International Delaware Chapter
Join us October 7th & 8th as PTPIDE promotes Peace Through Understanding in our local community! WE ARE ONE! Innovations & Collaborations for Peace #ptpde #peaceweek #academyforpeace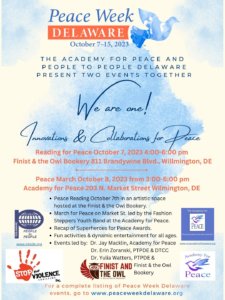 Three things ChatGPT shared about Delaware:
1. Tax-Free Shopping: Delaware is known for having no sales tax, making it a haven for shoppers looking to save a bit on their purchases.
2. Beautiful Beaches: The state boasts picturesque beaches such as Rehoboth Beach, offering a peaceful escape with its soft sands and serene waves.
3. Rich History: Delaware holds a significant place in US history, being the first state to ratify the Constitution. You can explore this heritage at various historic sites and museums.